OBP-601 (Censavudine)
Outline
OBP-601 (Censavudine) is a nucleoside reverse transcriptase inhibitor (NRTI), and Oncolys originally obtained worldwide global rights of OBP-601 from Yale University in 2006 to develop and commercialize this compound for the treatment of HIV, and completed Phase 2b clinical study, after granting its sub-license to Bristol-Myers Squibb in 2010.
Although the result of Phase 2b clinical study revealed that OBP-601 is well tolerated and efficacious, we cease the development considering the current HIV market.
As a result of searching the possibility of repurposing OBP-601, Oncolys have concluded an exclusive worldwide license with sublicensing rights for OBP-601 with Transposon Therapeutics, Inc. ("Transposon") which was established with the aim of applying reverse transcriptase inhibitor to other diseases. The total amount of this agreement is in excess of $ 300 million.
Going forward, Transposon will pursue development of OBP-601 on a worldwide basis.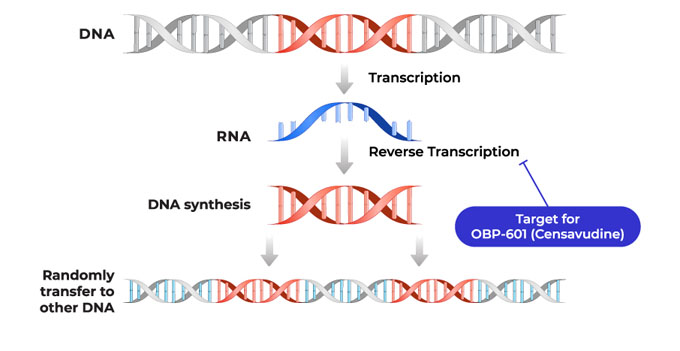 Current status