(OBP-301)
Outline / Target indication / Current status
Outline
Telomelysin is a gene-modified oncolytic adenovirus in which selectively replicate in cancer cells by introducing human telomerase reverse transcriptase (hTERT) promotor. Oncolytic adenovirus has much potential for cancer immunotherapy because its viral replication is highly immunogenic, and oncolysis induced by such virus releases tumor antigen and provides costimulatory danger signals. From the result of phase 1 clinical study in the US, OBP-301 showed abscopal effect, which non-injected tumor as well as injected tumor was regressed in melanoma patients after single injection into one single tumor and found that not only increasing infiltration of CD8 and antigen presenting cells but diminishing Treg cells in injected tumor site.
Oncolys has been conducting phase1 clinical study of Telomelysin for hepatocellular carcinoma in Korea and Taiwan and phase 2 clinical study for melanoma in the US. We will also soon initiate phase 2 study for esophageal cancer in combination with radiation, and another study for esophageal cancer in combination with a check-point inhibitor in Japan.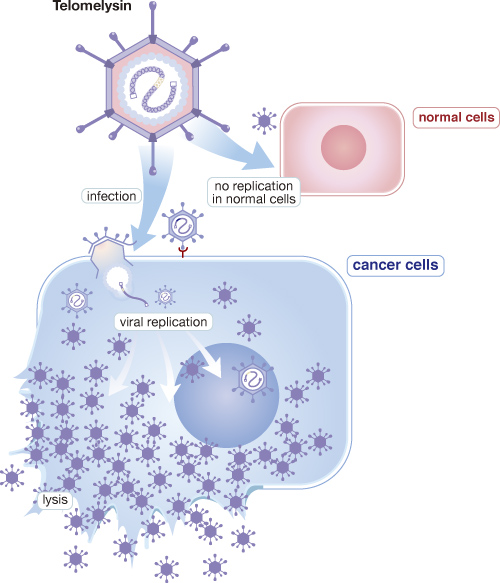 Target indication
Gastrointestional Cancers (Esophageal Cancer, Gastric Cancer, etc), melanoma and hepatocellular carcinoma
Current status
In preclinical studies for Telomelysin, Oncolys has demonstrated effective anti-tumor activity on various cancer cells, and there was no finding that may bring safety concerns in toxicological studies as well as bio-distribution study. Oncolys completed the phase 1 clinical trial for solid tumors in the US with 16 subjects for single dosing and 6 subjects for repeated dosing. Most of the adverse events observed in the study was mild to moderate and transient, and there was a sign of efficacy showing tumor shrinkage in 8 out of 12 evaluable patients.
In Japan, investigator initiated clinical research for esophageal cancer in combination with radiotherapy has been conducted in Okayama University. In cohort 1, 4 out of 7 patients (1 withdrawn due to the progress of other diseases) showed CR (complete response), and CD8 T cell infiltration was observed in tumor area. Based on positive results in this study, phase 1 study is ongoing.
In addition, Oncolys has been conducting phase 1 clinical trial of Telomelysin targeting hepatocellular carcinoma patients refractory to existing cancer treatments in Korea and Taiwan under the IND approved by the US FDA, which is collaboratively conducted with Taiwanese biotech company, called Medigen Biotechnology Corp. 17 patients in total (single dosing cohorts, 1 to 4; 3 patients in each cohort, multiple dosing cohort, 5; up to 6 patients) have been enrolled to date, and DSMB confirmed the safety of intrahepatically administered Telomelysin. We have a ongoing melanoma phase 2 study in the US. This study has enrolled 3 patients to date.
We further have a plan to initiate two clinical studies. One is esophageal study in combination with chemo radiation in the US We anticipate the first patient enrollment in 2Q 2019. The other one is gastroesophageal cancer study in combination with check-point inhibitor, which will be initiated in 4Q, 2018.
(Countries where patent was issued)
Japan, United States, Europe, South Africa, Singapore, New Zealand, Australia, China, Hong Kong,
South Korea, Canada.
Telomelysin & Current Development Status