CEO Message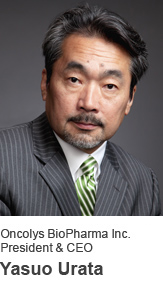 Since establishment in March 2004, Oncolys BioPharma has strived to achieve its mission to contribute to the advancement of medical science in the world through the creation of innovative technology for patients suffering from intractable cancer and serious infectious diseases. We then aim to bring more therapeutic options in clinical settings where large "Unmet Medical Needs" exists, through the development of novel drugs using virology-based technologies.
In April 2019, Oncolys entered into a license agreement with Chugai Pharmaceuticals for Telomelysin (OBP-301), a proprietary oncolytic adenovirus immunotherapy candidate for various cancers. Although this is a big milestone event for Oncolys from business perspectives, we all know that it is just a beginning of our long journey to achieve one of our goals, "Powering Future Oncotherapy".

We have already moved into the 2nd generation Telomelysin development which is expected to be more potent to kill cancer cells, as well as the 3rd generation which enhance cancer immuno-reactions.

We will remain focused on achieving our mission. We strongly believe that our tireless pursuit for novel drugs and scientific contributions can make the world healthier and better.



Oncolys BioPharma Inc.
Yasuo Urata
President & CEO